Canadian Mortgage News and Press Release Archive
CanEquity Mortgage Canada not only delivers the latest mortgage news in Canada for homeowners, mortgage brokers, and real estate professionals, we also maintain a searchable database of mortgage press releases. Here you will find news relating to Canadian mortgage brokerages, lenders, banks and organizations like the Canada Mortgage and Housing Corporation (CMHC). If you have press releases or mortgage news that you would like to contribute, please call 1-866-530-5541.
---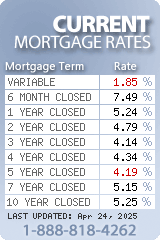 Using our
new
CanEquity
mortgage calculator
, you can find exactly how much you can afford on your home. Find your dream home and live comfortably!
Try our new Qualification Calculator today!

Call us toll free and receive the very best mortgage service and
top mortgage rates
available in Canada. Our mortgage brokers are available, coast to coast, to comb the market for you.