Canadian Mortgage News and Press Release Archive
CanEquity Mortgage Canada not only delivers the latest mortgage news in Canada for homeowners, mortgage brokers, and real estate professionals, we also maintain a searchable database of mortgage press releases. Here you will find news relating to Canadian mortgage brokerages, lenders, banks and organizations like the Canada Mortgage and Housing Corporation (CMHC). If you have press releases or mortgage news that you would like to contribute, please call 1-866-530-5541.
---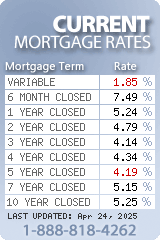 If submitting personal information over the Internet concerns you, try our
printer friendly
mortgage application.

You will need the free Adobe Acrobat Reader to view and print it. Once filled out, fax the application to our toll free fax number listed on the form.

Refinancing your mortgage will open up a whole new realm of possibilities. With the money you save on interest, or by changing your payments, you will have freed up enough to do the things that you really want to do, like taking out the family. Find more about
refinancing your mortgage
on our website.

Staying up to date on rates, terms, the best products available and important financial strategies is all part of the service a
mortgage broker
provides for you. To ensure that you're getting the best possible financing, a mortgage broker uses the whole of their market knowledge. Brokers provide the best rates in Canada.