Canadian Mortgage News and Press Release Archive
CanEquity Mortgage Canada not only delivers the latest mortgage news in Canada for homeowners, mortgage brokers, and real estate professionals, we also maintain a searchable database of mortgage press releases. Here you will find news relating to Canadian mortgage brokerages, lenders, banks and organizations like the Canada Mortgage and Housing Corporation (CMHC). If you have press releases or mortgage news that you would like to contribute, please call 1-866-530-5541.
---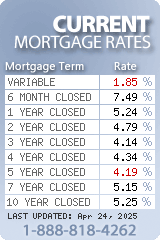 CanEquity's mortgage calculator is a very easy way to find a balance between payments for your home and having enough breathing room to live comfortably. Pick a mortgage amount, your favourite rate, an amortization and our
mortgage calculator
will give you a summary of your payments and balances over the life of your mortgage.

The better your credit report looks to a lender, the better chance you have at getting a higher loan at a lower rate.
It's important to know you credit rating. You might be surprised what you learn.