Canadian Mortgage News and Press Release Archive
CanEquity Mortgage Canada not only delivers the latest mortgage news in Canada for homeowners, mortgage brokers, and real estate professionals, we also maintain a searchable database of mortgage press releases. Here you will find news relating to Canadian mortgage brokerages, lenders, banks and organizations like the Canada Mortgage and Housing Corporation (CMHC). If you have press releases or mortgage news that you would like to contribute, please call 1-866-530-5541.
---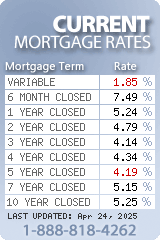 Regardless of where you are in Canada, CanEquity will work hard to provide you with the best
mortgage rates
and products available.
Contact us
today.

secure online application
for Internet users in the province of
Quebec
.
Mortgage Type
Inquiries
Qualification

17.65%

Refinance

15.33%

First-time Buyer

14.85%

Renewal

13.94%

No Money Down

10.18%

Purchase

9.92%

Pre-approval

9.13%

Commercial

2.97%

Variable Rate

1.70%

Other

4.31%

Last Tally: Apr 10 at 04:15:07