Canadian Mortgage News and Press Release Archive
CanEquity Mortgage Canada not only delivers the latest mortgage news in Canada for homeowners, mortgage brokers, and real estate professionals, we also maintain a searchable database of mortgage press releases. Here you will find news relating to Canadian mortgage brokerages, lenders, banks and organizations like the Canada Mortgage and Housing Corporation (CMHC). If you have press releases or mortgage news that you would like to contribute, please call 1-866-530-5541.
---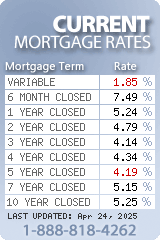 Interested to see how variable rate mortgages measure up to fixed rate mortgages? Look back as far as ten years to see how rates have been changing. Our
mortgage rates history report
will show you what you need to know.