2001 National Archive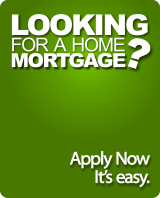 Our 5-year term beats the bank's posted rate by a lot, so why fight for the best mortgage rates when you don't have to?

If submitting personal information over the Internet concerns you, try our
printer friendly
mortgage application.

You will need the free Adobe Acrobat Reader to view and print it. Once filled out, fax the application to our toll free fax number listed on the form.

Refinancing your mortgage will open up a whole new realm of possibilities. With the money you save on interest, or by changing your payments, you will have freed up enough to do the things that you really want to do, like taking out the family. Find more about
refinancing your mortgage
on our website.

Did you know that you can
save over $28,000
on a $300,000 mortgage by switching to biweekly accelerated payments? Find more on-site using our
calculator for mortgages
. You'll learn how to save as much or more on your mortgage.

Have you been
pre-approved for a home mortgage
yet? Getting pre-approved will help you shop by letting you know how much you can afford. Pre-approval also helps you lock in today's best mortgage rates, so that when you've finally found your home, you won't miss out on Canada's
historically low rates
.

Expert mortgage brokers
are worth their weight in gold. If you find the right one, they can save you tens of thousands of dollars in interest over the course of your mortgage. A mortgage broker will know what type of payment schedule is best and how to find you the best rates in Canada.

See how much you can save each month by
refinancing
, or raise your home-buying negotiating power with a mortgage
pre-approval
. Fill out our concise application and we'll let you know how low your monthly payments can be with our top mortgage rates.