Mortgage News & Press Releases - May 2002
Housing Starts Decline In April
OTTAWA, Ontario, May 8, 2002 — The seasonally adjusted annual rate* of housing starts in Canada decreased 11.3 per cent in April to 184,500 units from a revised 208,000 units in March, according to Canada Mortgage and Housing Corporation (CMHC). Urban singles declined 6.4 per cent to an annual rate of 96,600 units in April from 103,200 in March while urban multiple starts were down …

Bank of Canada Governor Reviews Progress in Strengthening International ...
OTTAWA, Ontario, May 14, 2002 — In a speech to the Canadian Club of Ottawa and the Canadian Institute of International Affairs, Bank of Canada Governor David Dodge reviewed the progress made in strengthening the international financial architecture, preventing global financial crises, and expediting orderly solutions in the event of a crisis. Mr. Dodge stressed that in an …

Canada and Ontario Sign Affordable Housing Program Agreement
TORONTO, Ontario, May 30, 2002 — The Governments of Canada and Ontario today signed an Affordable Housing Program Agreement which will provide $489.42 million over the next five years to help increase the supply of affordable housing in the province. Federal funding of $244.71 million, together with matching contributions from the Province of Ontario, municipalities and other private …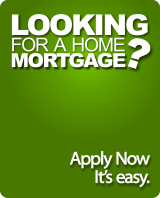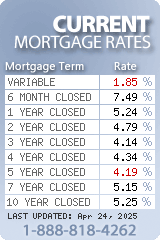 Our 5-year term beats the bank's posted rate by a lot, so why fight for the best mortgage rates when you don't have to?

See how much you can save each month by
refinancing
, or raise your home-buying negotiating power with a mortgage
pre-approval
. Fill out our concise application and we'll let you know how low your monthly payments can be with our top mortgage rates.