Mortgage News & Press Releases - August 2003
New Home Market Remained Strong in July
OTTAWA, Ontario, August 11, 2003 — New home construction rose in July with the seasonally adjusted annual rate 1 of housing starts increasing to 223,500, from a revised 2 205,900 in June, reports Canada Mortgage and Housing Corporation (CMHC). "Low mortgage rates and job creation continue to buoy consumer confidence and are the main catalysts driving new home construction higher" said …

Canada and Prince Edward Island Announce First Project Under Affordable ...
CHARLOTTETOWN, Prince Edward Island, August 12, 2003 — The Honourable Steven Mahoney, Secretary of State responsible for Canada Mortgage and Housing Corporation, and the Honourable Jamie Ballem, Prince Edward Island Minister of Health and Social Services announced today that the first project to receive funding under the Canada-Prince Edward Island Affordable Housing Agreement would be …

Home Starts Expected to be Second Strongest in 14 Years, Renovation Spending ...
OTTAWA, Ontario, August 13, 2003 — Housing starts are expected to reach 203,200 units this year, the second highest housing starts level in 14 years and renovation spending will rise to $32.1 billion, according to Canada Mortgage and Housing Corporation's (CMHC) third quarter CMHC Housing Outlook, National Edition report. "Another solid year for home construction is expected for 2003 …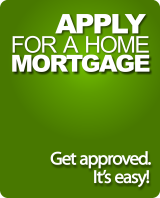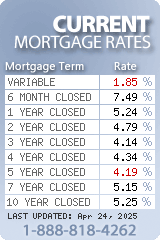 If submitting personal information over the Internet concerns you, try our
printer friendly
mortgage application.

You will need the free Adobe Acrobat Reader to view and print it. Once filled out, fax the application to our toll free fax number listed on the form.

Refinancing your mortgage will open up a whole new realm of possibilities. With the money you save on interest, or by changing your payments, you will have freed up enough to do the things that you really want to do, like taking out the family. Find more about
refinancing your mortgage
on our website.