2010 National Archive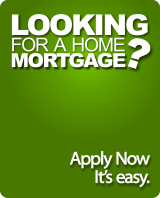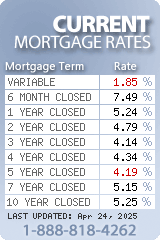 If submitting personal information over the Internet concerns you, try our
printer friendly
mortgage application.

You will need the free Adobe Acrobat Reader to view and print it. Once filled out, fax the application to our toll free fax number listed on the form.

Have you received your
mortgage renewal
in the mail? Don't just sign the form and send it back to the lender. Over 70% of mortgage holders do just that, and what is the usual result - a higher mortgage rate and a product that might not be best suited to their needs. Choose CanEquity for the best rate
mortgage renewal
in Canada.

Did you know that you can
refinance your mortgage
to help with your debts? If you have high interest credit cards, expensive auto financing, a mortgage and other debts, you can consolidate them all into a single, low interest amount by refinancing a mortgage.
Debt consolidation
is only the beginning of things you can do with the equity in your home.

Buying a home
is an exciting time. Focus on getting exactly what you want in your home and let CanEquity
handle the mortgage
. Our promise is to find the best rates in Canada for your home loan, and ensure that you have the means to fulfill your dreams.

Contact one of our Canadian Mortgage Brokers for a FREE credit check and mortgage qualification report. We service all major cities in Canada including Toronto, Quebec & Montreal, Victoria & Vancouver, Calgary & Edmonton, Halifax, and St. John's. Save time, money and aggravation by letting us track down the lowest rates offered by Canadian mortgage lenders.

Many young families can easily afford a mortgage payment, but added to a high cost of living it can be difficult to save for a down payment. With the no money down mortgage, you can stop renting and start building equity today.

See how much you can save each month by
refinancing
, or raise your home-buying negotiating power with a mortgage
pre-approval
. Fill out our concise application and we'll let you know how low your monthly payments can be with our top mortgage rates.