National Mortgage Related News Archive


Our 5-year term beats the bank's posted rate by a lot, so why fight for the best mortgage rates when you don't have to?

If submitting personal information over the Internet concerns you, try our
printer friendly
mortgage application.

You will need the free Adobe Acrobat Reader to view and print it. Once filled out, fax the application to our toll free fax number listed on the form.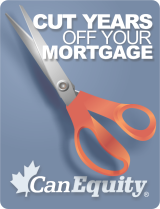 Have you received your
mortgage renewal
in the mail? Don't just sign the form and send it back to the lender. Over 70% of mortgage holders do just that, and what is the usual result - a higher mortgage rate and a product that might not be best suited to their needs. Choose CanEquity for the best rate
mortgage renewal
in Canada.

The term of your mortgage typically dictates what rate you get. Longer terms usually have higher rates, and shorter terms usually have lower rates. Lower rates result in less interest paid, but is it worth refinancing more often? Find out more using our
mortgage calculator
.

Call us toll free and receive the very best mortgage service and
top mortgage rates
available in Canada. Our mortgage brokers are available, coast to coast, to comb the market for you.

Are you up to your neck in
credit card debt
?
Credit card companies will charge you exorbitantly to make arrears. You have another option. Use our
Debt Consolidation
services and
save exponentially
.