National Mortgage Related News Archive


Our 5-year term beats the bank's posted rate by a lot, so why fight for the best mortgage rates when you don't have to?

If submitting personal information over the Internet concerns you, try our
printer friendly
mortgage application.

You will need the free Adobe Acrobat Reader to view and print it. Once filled out, fax the application to our toll free fax number listed on the form.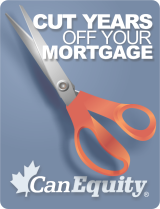 Have you received your
mortgage renewal
in the mail? Don't just sign the form and send it back to the lender. Over 70% of mortgage holders do just that, and what is the usual result - a higher mortgage rate and a product that might not be best suited to their needs. Choose CanEquity for the best rate
mortgage renewal
in Canada.

Did you know that you can
refinance your mortgage
to help with your debts? If you have high interest credit cards, expensive auto financing, a mortgage and other debts, you can consolidate them all into a single, low interest amount by refinancing a mortgage.
Debt consolidation
is only the beginning of things you can do with the equity in your home.

secure online application
for Internet users in the province of
Ontario
.
Mortgage Type
Inquiries
Qualification

20.21%

First-time Buyer

18.21%

Refinance

15.79%

Purchase

13.11%

Renewal

11.38%

No Money Down

11.24%

Commercial

2.33%

Variable Rate

1.75%

Pre-approval

1.51%

Low Doc

1.01%

Other

3.48%

Last Tally: Apr 10 at 04:15:07

You will have many decisions to make regarding your home purchase. Simplify the process by utilizing CanEquity's
mortgage calculator
. See the difference in savings selecting between biweekly mortgage payments and monthly payments will make.

For up-to-the-minute rates, quick closing specials, and local discounts from regional lenders, contact CanEquity Mortgage and we will connect you with a CanEquity Mortgage Consultant in your area.