National Mortgage Related News Archive


Our 5-year term beats the bank's posted rate by a lot, so why fight for the best mortgage rates when you don't have to?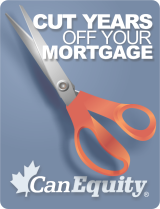 Have you received your
mortgage renewal
in the mail? Don't just sign the form and send it back to the lender. Over 70% of mortgage holders do just that, and what is the usual result - a higher mortgage rate and a product that might not be best suited to their needs. Choose CanEquity for the best rate
mortgage renewal
in Canada.

Find a healthy balance in your financial life by
refinancing your existing mortgage
. Use the equity in your home to lay high interest debts to rest, decrease your interest payments, or finance a dream vacation.

CanEquity's savvy brokers make it their mission to offer the
lowest rate
on the best mortgage products available in Canada. See the advantage we offer for yourself.

Making the minimum monthly payment of 2% on a $10,000 debt ($200 the first month) at 18% interest will cost you around
$38,930
and take about
57 years
to fully pay off.
Discover low interest Debt Consolidation.
Staying up to date on rates, terms, the best products available and important financial strategies is all part of the service a
mortgage broker
provides for you. To ensure that you're getting the best possible financing, a mortgage broker uses the whole of their market knowledge. Brokers provide the best rates in Canada.