National Mortgage Related News Archive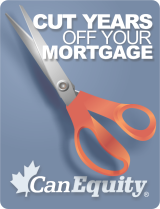 Have you received your
mortgage renewal
in the mail? Don't just sign the form and send it back to the lender. Over 70% of mortgage holders do just that, and what is the usual result - a higher mortgage rate and a product that might not be best suited to their needs. Choose CanEquity for the best rate
mortgage renewal
in Canada.

CanEquity's savvy brokers make it their mission to offer the
lowest rate
on the best mortgage products available in Canada. See the advantage we offer for yourself.

See the effects of changing payment schedules from monthly to biweekly accelerated. CanEquity's
mortgage calculator
will give you a breakdown and comparison of different payment schedules for your mortgage.

Contact one of our Canadian Mortgage Brokers for a FREE credit check and mortgage qualification report. We service all major cities in Canada including Toronto, Quebec & Montreal, Victoria & Vancouver, Calgary & Edmonton, Halifax, and St. John's. Save time, money and aggravation by letting us track down the lowest rates offered by Canadian mortgage lenders.

See how much you can save each month by
refinancing
, or raise your home-buying negotiating power with a mortgage
pre-approval
. Fill out our concise application and we'll let you know how low your monthly payments can be with our top mortgage rates.